This store requires javascript to be enabled for some features to work correctly.
Our Story
Paper Penie is a lifestyle brand specialising in fine stationery & gifts designed by and for the black community but particularly the contemporary black woman. Based in England, it's also the lovechild of fashion and lifestyle illustrator, Peniel Enchill Apenteng Birthed from a spur of the moment calendar release in late 2015, the brand was conceptualised and realised in October 2016 and we've not looked back since. We came to the understanding that it was not just a calendar, it is never just a card, and it'll never just be a gift. Each product or offering is an expression of love, and an extension of our vibrant culture created to celebrate, empower and uplift our community. By the grace of God, this has been well received and evident in the organic growth of the brand. Our story is just beginning and we would love for you to come along on this journey with the Paper Penie as we explore and expand into all aspects of luxury stationery and gifts, creating new experiences and inspiring others to dream. With Love, Team Paper Penie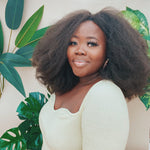 Meet Peniel
Founder and Artist
Hey Beautiful,

I'm Peniel Enchill Apenteng, an English based illustrator of Ghanaian Heritage with a particular interest in fashion and lifestyle illustrations.

My work focuses on depicting and celebrating the life of contemporary black women. This is usually a balance of illustrations that tackle serious/taboo issues such as miscarriage and child loss, body positivity, breast cancer, motherhood struggles and mental health, along with light hearted illustrations such as fashion dilemmas, black love and beauty illustrations.
Paper Penie is a tangible luxury extension of this and I absolutely love this brand and all it stands
for. So I truly hope you experience a fraction of this love with every product you receive.
Love,
Peniel